FitPlan Staff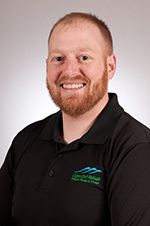 Eric Chandler CSCS
Eric is a graduate of Colby-Sawyer College with a BS in Exercise Science. He holds the title of Fitplan Manager and is a member of Cape Cod Rehab's HUMAC Balance Team. He is a Certified Strength and Conditioning Specialist (CSCS), Certified in Part I & II of the Burdenko Method, Certified FMS Specialist, and has also been trained in the TRX Suspension Training Method. Eric began working at Cape Cod Rehab in 2007 and has experience working with physical therapy patients and personal training clients of all ages, abilities, and medical conditions. Eric looks for his clients' strengths and uses those strengths to help them get the most out of each session. "There are endless possibilities for effective ways to exercise. Find something you love to do and you will increase your level of success. Never stop trying new types of exercise, you will inevitably surprise yourself and love doing something you never thought you would!"
Jennifer Skiba MS
Jen received her BS in Kinesiology at the Pennsylvania State University before continuing on to a MS in Sport Administration from Canisius College in Buffalo, NY. She is a Certified Burdenko Method Instructor, a Titleist Performance Institute (TPI) Certified Level 1 Fitness Professional, a Certified Running Coach through the Road Runners Club of America (RRCA), a Certified Spinning Instructor, and a Certified FMS Specialist. While in college, Jen interned with the Penn State Athletic Department, the Philadelphia 76ers, and the Philadelphia Flyers. She began working at CCR in 2010 as FitPlan staff and also serves as the Marketing Coordinator and FitPlan Supervisor. A runner and dog mom to the famous Georgie, Jen is a great motivator believing that fitness is contagious. "Setting goals is what keeps me going. I like to get others involved to work hard with me everyday"
Greg Wilson, BS, CSCS, USAW L1-SP, CWPC
Greg is a Certified Strength and Conditioning Specialist through the NSCA. He is also a certified Level 1 Sports Performance Coach through USA Weightlifting and a Certified Weight Lifting Performance Coach through Athletes Acceleration. He earned his Bachelors of Science degree in Exercise Physiology with a focus in strength and conditioning at Lynchburg College in Virginia. After graduating, Greg interned at Champion Physical Therapy and Performance in Waltham, MA under the direction of world renowned physical therapist Dr. Michael Reinold, PT, DPT, SCS, CSCS and was later hired as a full-time strength and conditioning coach and adult group training coordinator. Greg's own training interests involve powerlifting and he currently holds multiple New England records in the Revolution Powerlifting Syndicate organization. In the 242lb Raw Classic Class, Greg holds the Powerlifting Total Record at 1570lbs and the Individual Squat record at 555lbs. Greg's goal is to help all of his clients to look, feel and perform better through the importance of individualization within programming and attention to detail in order to achieve the highest level of performance.
Liz Thompson BS CSCS FMSC
Liz graduated from University of New England with a B.S. in Applied Exercise Science and joined the Cape Cod Rehab staff in December 2016. She is a Certified Strength and Conditioning Specialist (CSCS) and Functional Movement Screen Certified (FMSC). Liz believes that exercise can be an exciting and unique experience for everyone and uses that philosophy when training clients. "Find what drives you, set your goals, have fun and watch your efforts shape your fitness journey. When you challenge yourself and give your maximum effort, the possibilities for success are endless."