Testimonials
"I recently finished a series of treatments at your Mashpee Facility and must impart to you what an absolutely phenomenal staff you have. From the first time I walked in, I was made to feel welcome and relaxed. My issues and appropriate course of treatment were explained in east to understand terms and all questions answered. The staff were beyond experts at their crafts and also provided company and conversation that made you feel like you were the best of friends sharing stories and plenty of laughs. My treatment was incredibly effective and I feel one hundred percent better. To have a physical therapy rehab center that one actually misses after treatment has run its course is an amazing feat indeed! Should the need arise, I certainly will not hesitate to return and will, without hesitation, recommend Cape Cod Rehab to anyone in need of your services."
~Douglas, Mashpee Patient
---
"Wouldn't go any place else!"
~Osterville Patient
---
"Incredibly caring atmosphere - very rare - much appreciated - Kathy, you're the best!!"
~Osterville Patient
---
"Everyone is wonderful. This place is the best - TC is very very good. I feel in very good hands."
~Osterville Patient
---
"I was told to see TC for my therapy from a doctor in Boston because he heard great things about her and had such great results. I have had such a bad time for so long and the information my doctor gave was right about TC and I'm sure I will be ok soon. I also appreciate the way she knows how I feel and the pain I am in. Thank you all in Osterville for being so nice. I will be back!!"
~Osterville Patient
---
"As I have had back and shoulder injuries in the past, it was very important to me to train with someone with the knowledge and experience to guide me in a workout that was safe, but would also yield results. I really liked that Eric personalizes the training, drawing from the Burdenko philosophy, rather that a 'one size fits all' approach. I liked the pace and variety of our training sessions, but most importantly, I felt safe yet challenged in the workouts."
~Peggy, Hyannis FitPlan Member
---
"It was always fun and exciting for me. The staff quickly figured out my training style and always pushed me enough that I feel I never wasted a workout but also never too much so I felt I was overdoing it. Eric is both knowledgeable and helpful about specific training, nutrition, injury prevention, and designing workout plans."
~Nick, Hyannis FitPlan Member
---
"Joe, I can't thank you enough for being the most outstanding physical therapist and running such wonderful rehab facilities. I am so grateful for the professionalism and dedication to recovery and 100% functionality that you instill! You helped me - and your staff helped me regain the use of my arm! It means more to me than you'll ever know - and no surgery! Thanks again."
~Pam, Mashpee & Hyannis Patient
---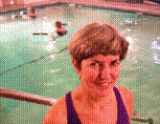 "For me, the warm water pool at Cape Cod Rehab was the key to my recovery. I was able to progressively increase my strength and endurance utilizing the Burdenko exercises. As a result of their dedicated and professional approach, my rehab was a success. Between the staff and the up to date facility it has been a great experience at Cape Cod Rehab. I am now in control of any pain I feel and am able to get through any issues with the exercises, which I was taught. I highly recommend Cape Cod Rehabilitation and their staff and in fact have recently sent two of my friends to their facility because of my pleasant and successful experience."
~Debbie McSorley, 1994 Cape Cod Female Athlete of the Year
(after a bicycle accident left her with a fractured vertebra and unable to workout)
---
"[Jodi] gave me hope that very first appointment. You made me feel like I could do whatever I wanted. From then on I was determined to get better. I was going to show everyone who told me I couldn't, everyone who said it wouldn't happen... There were times I wanted to quit and give up, but I couldn't let you guys down... it may seem like nothing, but you guys gave me my life back... I will always be grateful for what you did for me."
~Kristin, Dancer
---
"Thank you very much for being so very good at what you do."
~Arlene, Hyannis patient
---
"The greatest place on Earth. They are king, know their business, and get you up and running. I'll be sad when I'm done. The Staff has become family."
~Linda, Mashpee Patient
---
"Just wanted to send a HUGE thanks out to the awesome folks at CCR in Osterville - While I won't be able to continue my treatment there, it's great to know just how much you guys care about getting me back on my feet!"
~Jenn, Osterville Patient
---
"Thank you for helping me get back into shape. Your friendly manner and expertise always made my visits enjoyable. Thanks again."
~Warren, Hyannis patient
---
"Bottom line is that your people really helped me feel better. They showed by their welcoming attitude, knowledge and dedication that PT works when PT is needed. I am pleased with the results and at 84 years young, hopeful that I will always remember to follow through on the home exercise instructions given to me by your team of experts. Certainly you were smart enough to surround yourself with the right team."
~CL, Mashpee Patient
---
"Thanks for making my life a little easier. I wouldn't be where I am today without all of your help. Thanks for everything."
~Deb, Hyannis Patient
---
"Sincere thanks for all the help with my recovery. It has been a pleasure to get to know all of you. Keep up the good work."
~Sue, Hyannis Patient
---
"I've always taken great comfort in knowing that I'm being given exercises which suits my issues. When I begin to have issues, the staff is able to come up with a solution easily."
~Mashpee FitPlan Member
---
"Outstanding attention from all. Everyone at FitPlan is top notch – good move for me to come here."
~Mashpee FitPlan Member
---
"Keep doing what you're doing. I send people all the time and recommend this place constantly."
~Hyannis Patient
"Love it here and would not even consider going to a different facility! Thanks to all of you for all you've done for me! You're the best!!"
~Hyannis Patient
"Very knowledgeable pre-surgical advice. Not afraid to push to limits and made me feel comfortable and trusting to that end."
~Hyannis Patient
"The physical therapists were attentive to my therapy sessions, always giving support and extra care on days when I was not having a good day. There was also smiles and humor from the staff to help get through the sessions."
~Osterville Patient