FitPlan Staff
Eric Chandler CSCS
Eric is a graduate of Colby-Sawyer College with a BS in Exercise Science. He holds the title of Fitplan Manager and is a member of Cape Cod Rehab's Fighting Falls Balance Team. He is a Certified Strength and Conditioning Specialist (CSCS), Certified in Part I & II of the Burdenko Method, Certified FMS Specialist, and has also been trained in the TRX Suspension Training Method. Eric began working at Cape Cod Rehab in 2007 and has experience working with physical therapy patients and personal training clients of all ages, abilities, and medical conditions. Eric looks for his clients' strengths and uses those strengths to help them get the most out of each session. "There are endless possibilities for effective ways to exercise. Find something you love to do and you will increase your level of success. Never stop trying new types of exercise, you will inevitably surprise yourself and love doing something you never thought you would!"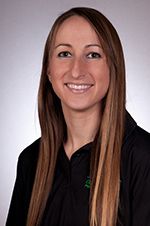 Jennifer Skiba MS
Jen received her BS in Kinesiology at the Pennsylvania State University before continuing on to a MS in Sport Administration from Canisius College in Buffalo, NY. She is a National Academy of Sports Medicine (NASM) Certified Personal Trainer, a Certified Burdenko Method Instructor, a Titleist Performance Institute (TPI) Certified Level 1 Fitness Professional, a Certified Running Coach through the Road Runners Club of America (RRCA), a Certified Spinning Instructor, and a Certified FMS Specialist. While in college, Jen interned with the Penn State Athletic Department, the Philadelphia 76ers, and the Philadelphia Flyers. She began working at CCR in 2010 as FitPlan staff and also serves as the Marketing Coordinator and FitPlan Supervisor. A runner and dog mom to the famous Georgie, Jen is a great motivator believing that fitness is contagious. "Setting goals is what keeps me going. I like to get others involved to work hard with me everyday"
Craig Moody MS ATC LAT PES
Craig joined the Cape Cod Rehab and Mashpee Fitness staff in August 2013 after receiving his Bachelor's degree in Athletic Training from the University of Maine at Presque Isle and a Master's degree in Exercise Science from California University of Pennsylvania. Craig is a National Athletic Trainers Association Board of Certification (NATABOC) Certified Athletic Trainer, Certified Performance Enhancement Specialist (PES), a National Association of Speed and Explosion (NASE) Certified Specialist, and Certified in Part I & II of the Burdenko Method. He is trained to provide quality therapeutic and emergency sports medicine care as well as performance enhancement exercise programs to a wide range of clients from inexperienced individuals to recreational athletes, youth athletes, collegiate athletes, and professional athletes. Craig enjoys playing sports, hiking, camping, and paddle boarding and believes that "with hard work and an open mind anyone can be successful in creating a healthy lifestyle that will make you feel better not only physically but mentally as well."
Ally Wilson AFAA/AAAI/ISMA Certified Fitness Instructor
Ally graduated from Kenyon-Campbell Business School where she majored in Travel & Tourism. Certified through AFAA as a Fitness Instructor since 1994, she has taught a wide variety of formats including Step, Floor Aerobics, Aqua, Cycle, Muscle Conditioning, Interval Training, Kickboxing, Pilates, Zumba® Fitness, Yoga, Tai Chi and Burdenko. She also spent some time as a Certified Personal Trainer from 2004 - 2010. Ally was a licensed Zumba® Fitness Instructor from 2006 - 2014. During this time, she auditioned and was selected by Zumba® to be one of the original groups of Zumba® Jammers teaching her own original Latin and international dance fitness choreography to other licensed Zumba® Instructors from all over New England. She currently holds certifications in Burdenko Level 1 & 2 and AAAI/ISMA Fitness Instructor, Tai Chi and Yoga Phase 2 Certifications. Ally's hobbies include spending time with her family and friends, riding her horse Lola and basically any outdoor activities that she can get into. Ally Specializes in creating fun, safe and effective choreography to help students achieve their goals. She believes that our bodies are like cars getting us from place to place while here on earth. "Make sure to take good care of them, put the right fuel in, keep them well maintained and they will drive us for miles. Sloppy jalopy? No way… Be that amazing sports car! Feel good and look good while you are on your journey…"
Erin Womboldt
Erin received her BS in Health Sciences from Springfield College in 2016 and starting working at Cape Cod Rehab and Mashpee Fitness soon after. Erin is a Certified Personal Trainer through the National Academy of Sports Medicine, Certified in Part 1 of the Burdenko Method, a BACCUS Certified Peer Education and is currently working towards her Master's degree in Exercise Science at Liberty University. Erin is a member of the Cape Cod Rehab Fighting Falls Balance Team and leads the Group Run on Monday nights in Mashpee. A former gymnast and collegiate track & field athlete, her hobbies include running obstacle course races, golf, aerial yoga, karaoke and playing the harp. She believes that exercise should be fun. "If you find something you enjoy doing, you are more likely to keep doing it!"
Jami Woods M.Ed., CPT, FNS, CYT, GPT
Jami joined the staff in 2019 as a Certified Personal Trainer and Certified Fitness Nutrition Specialist through the National Academy of Sports Medicine. She is also a Certified Yoga Teacher (Yoga Alliance) and has been practicing yoga for more than 20 years. Jami earned her Master's degree in Counseling from North Dakota State University and in her previous career, Jami led expeditions all over the states teaching people how to live primitively, as well as survive in the outdoors. She instructed adventure skills while helping people develop therapeutic skills to work through life's obstacles, living a healthy and happy life, building confidence to reach their goals. Her personal fitness philosophy is "everything is a process." She believes in developing a foundation of healthy practices to produce lasting results, a better quality of life, less obstacles and more enjoyment-living a life you WANT to live.
Andrew White
Andrew joined the FitPlan staff in September 2020 with a Bachelor's degree in Physical Education from Bridgewater State University. Andrew personally lost 135 pounds which is what started him on his health and wellness path. Some of his many certifications include: ACSM Certified Personal Trainer, TRX Group Suspension Trainer, AFAA G.E.A.R. Indoor Cycling, AFAA Sunrise Yoga Specialty, Animal Flow, PIYO, Cardio Sport, Reiki III, Water in Motion and is currently working towards his 200 Hour Yoga Alliance certification. His personal fitness philosophy: "Your path to health and wellness is a journey, not a destination. With that in mind, you should be enjoying the trip. You need to find a way to make fitness FIT into your life, not try to FIT your life into fitness. I want to help people find their fitness passion and help them find a program and or activity that they love to do for the rest of their lives. I like to think of myself as a tour guide along the road helping you along the way."
Sally Morrow
Bio Coming Soon...
Janet Buckley
Bio Coming Soon...